Black Soldiers in Red, Blue and Grey
Cape Fear Historical Institute Papers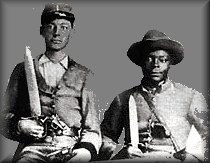 Confederate of Color
Runaway slave Crispus Attucks, killed alongside two white citizens
at the Boston Massacre in 1770, is a well-known black American
who served in the Revolution, as well as black slave Peter Salem,
who shot and killed British Major Pitcairn at Bunker Hill.
An all-black regiment under Colonel Christopher Greene distinguished
itself against Hessians at Newport, Rhode Island, repelling successive "furious onsets" by the mercenaries. The first woman Continental
soldier was Deborah Gannett, who concealed her gender and
served throughout the war under the alias of "Robert Shurtlif."
Author Vernon Jordan states, "the role of the black (slave) in the Revolution can best be understood by realizing that his major loyalty
was not to a place, nor to a people, but to a principle (liberty)."
Though we recognize them as former slaves who fought bravely
for the American revolutionary cause, the real evidence suggests that
slaves who did serve in that conflict were more likely to join the
British side and fight against the independence of the colonists.
As there is no reliable record of how many blacks fought on either
side, it is estimated that 3000 fought on the American side,
and Thomas Jefferson placed the number of former slaves
fighting for the British at 30,000.
Eighty-eight years before Lincoln's proclamation, an Act of
Lord Dunmore, Royal Governor of Virginia in November 1775 emancipated all slaves "able and willing to bear arms, joining
His Majesties Troops for more speedily reducing the colony
to a proper sense of their duty to His Majesty's Crown and dignity."
In his "The Last of American Freemen," author Robert Weir states
that it was "not surprising that well before the news of (Dunmore's Proclamation) attempts to raise Virginia's blacks, Whigs in the
South believed that Royal officials planned to instigate slave
insurrections" to quell any American uprisings.
Dunmore's actions enticed many blacks to fight against American
liberty, but love of country kept some fighting on the colonist's
side regardless of continued slavery in the new republic. This love
of country continued beyond the revolution as many black's fought
to defend what they perceived as their homeland in 1861. It is indeed
ironic that black slaves would desert the plantations for the lure of
freedom within British lines, since it was English (and New England)
slave ships that brought enslaved Africans to North America.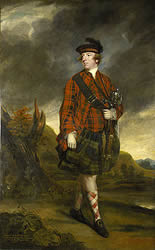 Nonetheless, Lord Dunmore and his 1000 black troops posed a
serious threat to the revolutionary movements in Virginia and North Carolina. Robert Howe with his Continental unit and Minutemen
from Edenton were immediately dispatched to Norfolk with a dual purpose; to block any move by Dunmore toward North Carolina,
and to prevent Negroes from Pasquotank, Currituck and adjacent
counties from joining the British liberator. The Wilmington Safety Committee took defensive measures in July 1775, insisting that all
blacks be disarmed so as to keep the "Negroes in order" and it
instituted patrols to search for and take from Negroes
all kinds of arms."
After Lord Dunmore's proclamation, Washington moved to enlist
free blacks to forestall them from joining the British. Free blacks
appeared to have a greater inclination to join the Continental army
while slaves preferred the British forces, in part due to the colonist's misgivings about arming them and partly due to the promise of
freedom from the British. Only Maryland authorized slave
enlistments and subjected free blacks to the draft, but many
free blacks enlisted in the army or navy in Virginia,
North Carolina and other States.
Perhaps as many as three-quarters of Rhode Island's continental
troops were slaves who had been offered freedom in exchange
for their service. It is remembered that Rhode Island served not
that many years earlier as the largest slaving port in North America,
and far more active than Massachusetts and New York.
In the latter days of the struggle the British turned to blacks for
additional manpower along the battle lines as black troops fought
with the British at Savannah in 1779, Congarees in 1781 and Green
Spring near Jamestown, Virginia in 1781. A British black cavalry
unit clashed with patriot forces outside Charleston in April 1782
with two black horsemen losing their lives. Black contributions to
the war effort were aptly summed up by British General William
Phillips, who said…"these Negroes have undoubtedly been of
the greatest use". Other blacks fought with Loyalist militia under
such Tory leaders as Samuel Bryan in Rowan County and Samuel
Burke, a black Loyalist, was credited with killing 10 patriots
at Hanging Rock in August 1780. Still other blacks served
on privateers that clashed with patriot vessels and
took them as prizes.
The War of 1812:
Black soldiers served on both sides in this war, with black regulars
serving with four US regiments in the 1814 Niagara Campaign, but
many blacks working as servants, teamsters and laborers. There is unreliable information that blacks served with Canadian militia, but
the British used most of their black troops in the American South.
In the Southern campaign against the Americans, the British again
utilized Lord Dunmore's tactic of slave revolt as Secretary of State
for War, Earl Bathurst set British official policy regarding blacks as
to encourage slaves to desert their owners and join the liberating army
to fight against their former oppressors. This was so successful that
British Captain Robert Barrie stated, "the slaves come off by
every opportunity…slaves are willing to serve as local guides…
and there is no doubt but the blacks of Virginia and Maryland
would cheerfully take up arms and join us against the Americans."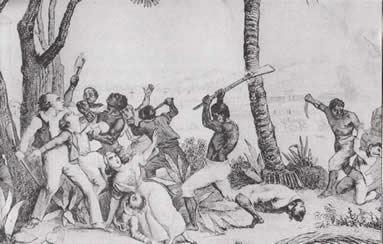 The British ordered newly-raised black regiments to raid North and
South Carolina, and Georgia, seeing that "black troops roaming and plundering freely would enhance the fear of slave rebellions."
This so alarmed American leaders that General Thomas Brown
mobilized militia cavalry units near Wilmington in the summer of 1812
to guard against black rebellion fomented by the enemy. Ironically,
it was the British (and New Englanders) who brought the bulk of
enslaved Africans to these shores, and in both the Revolution and
War of 1812, used slave rebellion as a brutal tactic with which to
subdue American political independence. It was not far into the
future that Abraham Lincoln and the radical Republicans used
that same strategy in subduing another American
war of independence.
The War Between the States and Confederate Black Troops: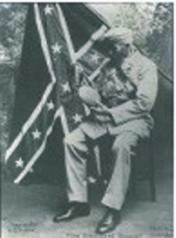 In an early effort to convince Northern leaders to recruit
black soldiers, black abolitionist Frederick Douglas reported
his concern early in the war that: "there are at the present
moment many colored men in the Confederate army doing
duty not only as cooks, servants and laborers, but real soldiers
having muskets on their shoulders and bullets in their pockets,
ready to shoot down loyal troops, and do all that soldiers
may do to destroy the Federal government . . . There were such
soldiers at Manassas and they are probably there still."
(Frederick Douglas, Douglass' Monthly, IV, Sept. 1861, pp. 516)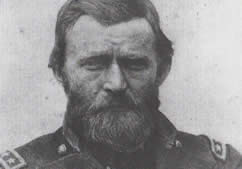 Even Northern General Grant knew of the black support for
the Confederacy and instructed his officers late in the war
to capture as many blacks as possible to avoid having them
carry arms for the South or support it in any way.
In 1860, there were approximately 4 million blacks both free and
slave in the United States and the vast majority either fought for or supported the American Confederacy, with the number of opposing
US Colored Troops amounting to only a little over 186,000 men.
Of the latter, it is questionable whether they were freely recruited
or were impressed into service to replace Northern white soldiers
who sought substitutes. Little known is the fact that Louisiana enlisted
black soldiers in New Orleans nearly a year in advance of the
Northern States. More on this later.
In 1861, many free black companies were formed throughout the
South with a Lynchburg newspaper commenting on the enlistment
of 75 free blacks to fight for the defense of the State, concluding
with "three cheers for the patriotic Negroes of Lynchburg!"
The "Richmond Howitzers" who saw action at First Manassas
in 1861 were an integrated artillery unit and at least two regiments,
one free and one slave, fought in the battle. By integrated it is meant
that black soldiers were not segregated into all-black units as in the
North, and rosters might note a "c" after a name to indicate a
colored soldier in a company. It is estimated that
between 50,000 to 65,000 blacks fought as combatants
in Confederate forces and nearly all on an unofficial basis.
In March of 1865 the Confederate government officially authorized
the enlistment of black soldiers when Congress passed an act that
enrolled slaves into the military with a quota of 300,000 soldiers.
To serve, they had to be emancipated by their owners, and as veterans were given bounty lands. With this official act, 83% of Richmond's
black male population volunteered for duty and before Richmond fell,
many black Confederates were drilling in the streets. General Lee
was fully behind the enlistment of black troops and in March 1865 expressed in a letter to General Ewell his regret that more owners
would not release their slaves for service. Over 3000 black soldiers
served with Lee's Army of Northern Virginia in its fighting retreat
from Petersburg to Appomattox.
While this was a late effort to emancipate, it was nonetheless discussed
in the Confederate armed forces as well as in the Confederate Congress
for a long white -- Secretary Judah Benjamin was a strong supporter
of this measure. As Northern armies ravaged further into Southern
States the poplucae was more willing to use whatever measures
would help achieve political independence, including the
emancipation of slaves and a new labor system in the South.
Dr. Edward Smith, Dean of American Studies at American
University, estimated that by February 1865, 1150 blacks had
served in the Confederate Navy which amounts to about 20%
of total naval personnel. Benjamin Gray, for example, was a
12-year old black youth who enlisted in Wilmington and saw
combat as a powder boy on the CSS Albemarle.
The US Sanitary Commission inspector Dr. Louis Steiner observed
in September, 1862 that over 3000 of General Jackson's 64,000
man army was composed of armed blacks who were fully outfitted
as soldiers, not servants, and were "manifestly and integral portion
of the Southern Confederacy army."
At Fort Fisher's capitulation in January, 1865, black Privates
Charles & Henry Dempsey of the 36th NC Regiment and Private
James Doyle and Daniel Herring of the 40th North Carolina Regiment surrendered to Northern forces. A total of nine black Southern
soldiers surrendered at the battle of Fort Fisher though it is probable
that many more served along their white counterparts as it was
common to see integrated Southern units. Also, there were many
blacks who fought with John Hunt Morgan's Mississippi raiders
and General Nathan Bedford Forrest freed black slaves fighting
with his cavalry forces.
President Jefferson Davis was so impressed with the service of
black Southerners, he stated in his annual message in November, 1864
that the numbers should be increased and emancipation would follow
their service.
Despite widespread fears in the first year of the war that the slaves
were preparing for a major revolt, nothing of the kind occurred. "War…has now existed for nearly 4 years" noted Virginia
Congressman Thomas S. Gholson in early 1865, "and yet . . .
there has been no insurrection or attempt at insurrection . . .
our wives and children have been left on our plantations frequently
with no other protection than that offered by our slaves."
Let's look at the black soldiers of 1861 New Orleans.
In James Hollandsworth's "The Louisiana Native Guards",
he states that the city was the most multi-cultural of any city
in the United States with a prominent and cultured black
population of doctors, dentists, cigar-makers, silversmiths
and architects, which is contrasted by Philadelphia and
New York being most discriminatory toward blacks.
By 1860, this black population had accumulated more than
$2 million in property in New Orleans. It is also true that the
South in 1860 held the largest percentage of Jews in the
United States with David Yulee (Levy) of Florida and
Judah Benjamin of Louisiana holding US Senate seats
from those States.
Here were 731 black enlisted men with 33 black officers aligned
in ranks alongside their white Louisiana Militia counterparts.
Governor Thomas D. Moore accepted the black regiment as
part of the Louisiana militia on 2 May 1861 and issued commissions
for the line officers, all black.
When Gen. Benjamin Butler captured New Orleans in late April 1862,
the Native Guards were disbanded. With Butler's command of the
City threatened by nearby Confederate forces, and the so-called loyal
Irish & German immigrants of the City resisting enlistment in the
Northern army, Butler reinstated the Native Guard but succeeded
in only enlisting 11% of the original State militia organization, with the
other 89% of the organization being newly captured slaves.
And 70% of the black former officers avoided service with the new incarnation of the regiment, with none of the men who had taken a prominent role in the organization of this regiment in the Confederate service reenlisting on the Northern side.
Further, the soldiers of the occupation duty 13th Maine regiment in
early 1863 refused to follow the orders or authority of the black officers and abolitionist General Nathaniel Banks solved this dilemma by tricking the black officers into resigning their commissions due to a federal technicality, and replaced them all with white officers.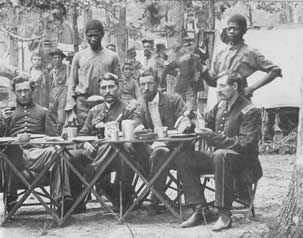 The North Seeks Another Source of Troops:
Being aware that the Northern public would support a war to maintain
the union, Lincoln also knew that he could not count on that support
for a war to end black slavery or for a war that employed black troops. This was especially true in the border regions, those slave States that
both remained in the original union and contributed troops to the
war effort. In rejecting the use of black troops
in the summer of 1862,
Lincoln argued that "…the nation could not afford to lose
Kentucky at this crisis…, " and that "arming blacks would
turn 50,000 bayonets from the loyal border States against us…"
While black companies and regiments were raised in Southern cities
and offered to the Confederate army, mob violence was threatened
against black citizens in Cincinnati when they sought to organize a
militia unit. Enthusiastic blacks in New York City rented a hall to
practice military drill but had to abandon their activity in the face of
a police order and a similar threat of mob violence.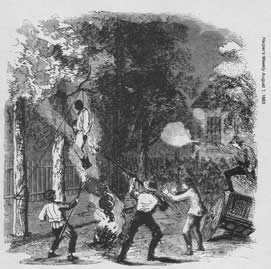 The Draft Riots of July 1863 speak volumes regarding northern labor hostility against blacks, free or slave.
Emancipation and employment of black troops soon became
a matter of vital military importance by December 1861 as
Lincoln was showing signs of frustration with the lack of
progress in subjugating the South. By mid-1862 Lincoln
admitted, "we had about played our last card and must
change our tactics or lose the war."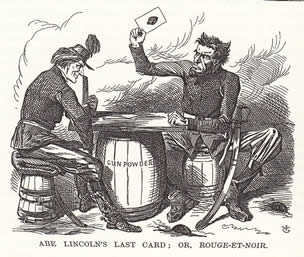 It was time to resurrect Lord Dunmore's emancipation proclamation.
Congressional action actually preceded Lincoln's proclamation on
17 July 1862 with its alteration of the 70-year old militia act that
barred blacks from military participation. Secretary of State
William Seward agreed with the substance of Lincoln's January
1863 "preliminary emancipation proclamation" but questioned the
timing of its release. Issued now, in the shadow of major Northern
military defeats, the declaration might appear to be a desperate
act by a government on the verge of defeat and he urged a delay
in its issuance until a Northern victory was in hand.
Lincoln also clearly understood that Europeans would see the
proclamation for what it was…nothing but "an attempt to incite servile
and insurrection" to imitate the horrors of Haiti and Santo Domingo,
as Dunmore intended.
A lesser-known provision of the emancipation proclamation officially authorized the implementation of the Militia Act of 1862, the raising
and using of black federal troops. This pronouncement in January
1863 sanctioned a practice that several maverick federal officers
had already attempted. But at the same time, the Proclamation was
so unpopular in the North that the fall 1863 elections in New York,
New Jersey, Pennsylvania, Ohio, Indiana, Illinois and Wisconsin
went against the Republicans. Enlistments to fill the deserted
Northern ranks came in slowly and blacks who had gone within
federal lines or had been kidnapped, were purposely driven into
the army. This is a significant fact.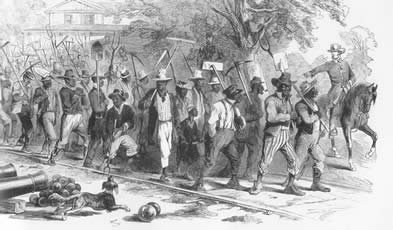 Northern Governors Replace White Troops With Black:
Faced with the necessity of drafting their own constituents in a
very unpopular war, the Northern governors looked for another
source of troops and they took up the abolitionist demand that
blacks should be fighting and dying. Under pressure from the
governors who feared losing the next election due to a backlash
from the unpopular draft, Lincoln issued the preliminary
emancipation proclamation and permitted the enlistment of
black troops. The day after the proclamation, Lincoln
suspended the writ of habeus corpus and ordered the
governors to force men into the militia.
An Act of Congress, passed on 4 July 1864 authorized
Northern Governors to send recruiting agents into the South
to recruit blacks who shall be credited to the State which may
procure the enlistment. The occupied Southern States were
soon swarming with recruiting agents competing with each
other over who could enlist the most black recruits to save
white citizens from serving. These agents found the pickings
very meager, enlisting fewer than 6000 former slaves.
The reason for this low number were twofold: one, the
Northern Generals were hostile to anyone tampering with
their black military laborers, and two, the rivalry of the
Northern government itself which launched its own program
in March 1863 to raise an army of blacks, the United States
Colored Troops.
In August 1864, Massachusetts Governor Andrew and Boston
Mayor Alexander were concerned over the number of draft age
male citizens leaving the State to avoid the draft and their inability
to meet the State's quota of troops. They both encouraged
Lincoln to obtain recruits from abroad to go as volunteers.
Andrew wrote to Secretary Stanton on 1 April 1863 that
"if the United States is not prepared to organize a brigade
in North Carolina, I would gladly take those black men
who may choose to come, receive our State bounty, and be
mustered in." Neighboring New York is credited with
providing 4125 black soldiers to the Northern army
ranks and it is doubtful that any were citizens
of that State either.
On 19 July 1864, General Halleck wrote Grant; "we are
now receiving one-half as many (men) as we are discharging.
Volunteering has virtually ceased." And he further says that
about the middle of June 1864 after Grant crossed the James
River and was attacking Petersburg…"reinforcements were
constantly sent to Grant, but they were for the most part
mercenaries, many of whom were diseased,
immoral or cowardly."
Rhodes says in his History of the United States, to justify the
conscription act of Congress approved 3 March 1863,
"volunteering had practically ceased….and only a pretty
vigorous conscription could furnish the soldiers needed."
Emancipation was far from being universally popular in the
North and Grant's casualty lists were endless and heartbreaking.
The draft was hated most as victory was most certain and the
draft dragnet for the insatiable demands of the Generals
caused political worries among Lincoln's friends in many
States who pleaded for its suspension. This is why nearly
200,000 federal soldiers were furloughed in November
1864 to go home and vote.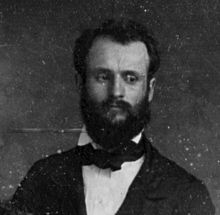 To this end, Assistant Secretary of War, Charles A. Dana
reported that, "all the power and influence of the War Dept.
was employed to secure the reelection of Lincoln," and Northern
soldiers were furloughed at election time to vote Republican,
and be present at the polls.
It should be remembered too, that by the end of the War, 1 out
of 3 federal soldiers were of German extraction. The Homestead
Act of 20 May 1862 offered extraordinary inducements for
foreigners to flock to the shores of the Northern States, and
another Act was passed on 4 July 1864 providing that foreigners
might enter into contracts for the payment of their passage money
out of their post-arrival earnings. This was done at the time
of dwindling enlistments in Mr. Lincoln's armies when
volunteers were scarce.
United States Colored Troops Formed:
Approximately 160 regiments and 10 batteries of light artillery were organized by Northern authorities as State militia or re-designated as
US Colored Troops after the establishment of the Bureau of Colored Troops on 22 May 1863. Only the 29th Connecticut, 54th &
55th Massachusetts and 5th Massachusetts Colored Cavalry
maintained State designations throughout the war.
There were 186,017 colored enlisted men who served under
the Bureau of Colored Troops, with 104,387 being ex-slaves
taken from the Confederate States. Another 44,000 were from
the border States and the remainder recruited in the Northern
States, Colorado Territory, and Canada. Tennessee alone
produced 20,133 colored troops.
In his book "Civil War & Reconstruction in Alabama," author
Walter Fleming states that many Negroes who enlisted in northern
Alabama were credited to Northern States. Instead of the
official figure of 4969, he claims that a conservative estimate
of the Negroes actually enlisted from Alabama would be
near 10,000. Though the number of blacks appears small in
relation to total Northern troops in the War, black soldiers
in blue and impressed German immigrants alone outnumbered
total Southern armies in the field.
In Tom Brooks "All Men Are Brothers", he states that the
largest source of "free men of color" came from the six
British colonies in North America (Canada) with a black
population of about 40,000 in 1860, a majority of them
living in Canada West, present day Ontario. Much of this
population were recently freed slaves and were therefore
American born. The blacks from Nova Scotia and
New Brunswick were free blacks whose ancestors fled
the South in 1783 as Loyalists.
The well-publicized 54th Massachusetts regiment formed in
May, 1863 was the second black regiment raised in a Northern
State, and it recruited heavily in Canada West. Many "Canadian"
blacks went South for the bounty money but did not count as
Canadians, so the actual numbers from Canada are probably low.
At least 18 of the 54th were Canadian and the 57th Massachusetts
had 99 Canadian blacks in the ranks. Fourteen Canadian blacks
served in the 3rd USCT with half of them being hired as substitutes
for American blacks who did not want to serve, and the 18th
USCT had 24 Canadian blacks on the roster, all substitutes.
George Washington was a Canadian-hired black substitute who
deserted on 16 September 1864, one month after his enlistment.
The primary enticement for Canadian blacks was the $100. bounty
paid upon enlistment. The State of Massachusetts lacked a
black population sufficient to raise 2000 black enlistments and
Governor John Andrew quickly targeted Philadelphia, the city
with the largest black population in the free States. Black
Philadelphians composed most of the 54th's "B" Company
and nearly all of that regiments ten companies included
black Pennsylvania recruits.
The 6th US Colored Troops (present at Fort Fisher) presents
an interesting cross-section of enlistments policies as it consisted
of 43% volunteers, 31% conscripted and 26% substitutes. In this
unit as an example, 57% of the troops were not volunteers and
questions the notion that blacks flocked to the military in order to
free their brethren. The recruits came from 23 different States,
both North and South as well as DC, and over 36% claimed
Pennsylvania as their birthplace. Twenty-two recruits were
from Canada who sought bounty money.
Philadelphia was described by Frederick Douglas as,
"a city in which prejudice against color is…rampant" and
recruiting black soldiers had to be done clandestinely and
gathering places held in secret.
It should be noted that in 1838, the Philadelphia headquarters
of the Pennsylvania Anti-Slavery Society had been burned by
an anti-black mob.
In James Paradis's "Strike the Blow For Freedom," an excellent
book about the 6th USCT, the author states that "the black troops
raised in that city (Philadelphia) had to drill eight miles from town
in order to quell the concerns of the white population and to keep
black recruits out of the city. It was named Camp William Penn,
which insulted the local Quakers who objected to naming a
military camp after one of their pacifist founders.
In September 1863, the 3rd USCT marched off to war through Philadelphia with the Mayor compelling the troops to march unarmed
and in civilian clothes so as to not infuriate the white citizens.
When the 6th USCT marched the following month, only the white
officers were armed though the troops carried muskets but were
not trusted with ammunition.
The white officers who served in colored regiments were usually
more abolitionist and anti- slavery in their political beliefs than
most Northern whites, and the noncoms were usually white.
At first it was difficult to obtain white officers for the USCT as
regular army men were generally opposed to blacks in the
service, and "West Pointers were especially adverse to the
idea of commanding black troops and ostracized their fellow
officers who undertook the task."
The black soldiers were to be paid a $75 enlistment bounty in
addition to $10 per month pay, with $3 deducted for food and
clothing allowance, which was less than half of what the white
Northern soldiers were paid. In New York, relief funds for the
families of black recruits was to be paid by the City as was done
with white, but the Supervisors in many towns and in the City
refused to support the wives of colored men.
The Union League in New York City discovered that many
black recruits were defrauded of their bounties, and in some
cases had every reason to suppose that the black men had
been drugged before enlisting. Others had been deceived as
to the service expected of them. The New York Herald
printed editorials in which it claimed that unsavory
methods of recruitment were the only way
to fill the State quota.
While some black recruits never received their bounties,
others enlisted on the promise of a 30 day furlough that
was never granted, at the end of which they would receive
their bounty. It is also reported that the 54th Massachusetts
served for a year without pay to protest the discriminatory
pay policies. One wonders why they served -- which meant
heavy fortification labor, guard duty and sickness -- without
pay and in conditions far worse than that of the plantation
and being near their families.
Federal General Milton Littlefield, recruiting for his Florida
expedition, called attention to the government bounty each
black recruit would receive and another bounty from the State
where he was accredited. There was a gap between the $300
he promised to black recruits and the $700. Jefferson County
(New York) actually paid, as it is possible that some of the
bounty money stuck to the hands of his friends and associates
who took part in the recruiting.
During the war, the Northern States paid nearly $300,000,000
in bounties for recruits to fight their war against the Southern States,
which was more than sufficient to purchase the freedom of every
slave in the United States in 1860. Littlefield became the notorious
"Prince of Carpetbaggers" in the postwar South, and was the
architect of railroad bond frauds in several States,
including North Carolina.
The USCT built fortifications along the coasts and up the various
rivers as the war progressed. They were engaged in so many menial
tasks, instead of fighting, that their officers made numerous complaints,
as they themselves would not ascend in rank without combat service.
In 1864 General Lorenzo Thomas issued an order in his department
to end "excessive impositions on Negro troops…and that they will
only be required to take their fair share of fatigue
duty with white troops."
USCT serving in Vicksburg in 1864 complained bitterly that
their wives had been taken away from them and sent to
camps or plantations unknown to them. Many of the
problems of black desertions can be traced to concern for
their families. Laura Haviland, a Northern relief worker
among black soldiers in 1864 Vicksburg overheard one
ex-slave say that "we are concluding to leave our
regiment and build something to shelter
and house our children."
Recruiting Methods and Corruption:
Major General David Hunter's infamous order from Hilton Head
in 1864 stated that "All able bodied colored men between the ages
of 18 and 50 within the military lines of the Department of the South,
who have had an opportunity to enlist voluntarily and refused to
do so, shall be drafted into the military service of the United States," indicating that there was really no choice in the matter.
General Sherman said of his march through Georgia, "when
we reached Savannah we were beset by ravenous (Northern)
State agents from Hilton Head…who enticed and carried away
our servants and the corps of (labor) Pioneers…we had organized.
On one occasion, my aide de camp found at least one hundred
poor Negroes shut up in a house and pen waiting for the night,
to be conveyed stealthily to Hilton Head. They appealed to
him for protection alleging that they had been told that they
must be soldiers, that Mr. Lincoln wanted them….I knew
that the State agents were more influenced by the profit they
derived from the large bounties than by any love of country
or of the colored race."
From the "Diary of James T. Ayers, Civil War Recruiter" we learn
that Private James T. Ayers received his appointment as recruiting
agent for USCT on 25 December 1863 and he began his duties
in northern Alabama. He raised black troops for the 17th USCT
and his diary is one of the best first hand accounts of enlisting blacks
during the war. Though at times naïve and bungling in his attempts
to convince blacks to join the army,
Ayers nevertheless was reasonably successful, especially when he
had armed black soldiers to assist him. After a town had been
taken by Northern forces, Ayers would move in and proceed
to enlist Negro recruits. He would nail up attractive posters
provided by the Adjutant General's office and announce a meeting
at which he would speak.
If he succeeded in assembling a number
of Negroes, he would appeal to them along two lines; one would
be to impress upon his hearers the importance of getting into the fight
in order to extend the blessings of liberty to their more unfortunate
brothers still enslaved, then he would say that the ten dollars a month
would give them security and independence. He further assured
the recruits that their families would be protected from Southerners
if they enlisted.
While opposition by white Southerners was to be expected, Ayers
found surprising the initial reluctance and lack of enthusiasm by the
slaves and ex-slaves to join the USCT, complaining frequently that
the blacks offered all manner of excuses not to enlist.
He gradually became disappointed and disillusioned by the slow
recruiting process and wrote in September 1864 that he was heartily
sick of coaxing black soldiers to enlist, as they are so trifling and
don't deserve to be free. He had encountered, to his surprise,
many blacks who were not interested in fighting for freedom.
As a result of his corrupt recruiting efforts, Ayers was arrested in September 1864 on charges of kidnapping blacks and was sent under guard to Huntsville, Alabama by order of a General Granger.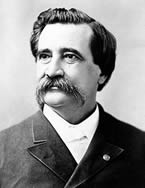 In a letter to General Grant, General John Logan wrote
that "a major of colored troops is here with his party capturing Negroes, with or without their consent". General Palmer
reported from Virginia to General Benjamin Butler that
"the Negroes will not go voluntarily, so I am obliged to
force them.….The matter of collecting the colored men for
laborers has been one of some difficulty . . . they must be
forced to go". In the words of General Rufus Saxton,
"men have been forced to enlist who had large families",
and on one occasion "three boys, one only 14 years of age
were seized in a field where they worked
and sent to a regiment".
Author Peter Maslowski in his "Treason Must Be Made Odious, Reconstruction in Wartime Tennessee, he states that "a third major impressment took place in August and September of 1863 when
Union authorities needed 2500 men to work on the Nashville
and Northwestern Railroad. By now the military had developed sophisticated impressments techniques. For instance, the patrols
would wait until Sunday morning and then raid the crowded
black churches. And the troopers did not hesitate to use
violence and threats. During one church raid, they shot and
killed a black man and threatened others with a similar fate
if they tried to escape."
In the 1864 Annual Report of the Superintendent General of
Negro Affairs, Department of Virginia & North Carolina, Major
George J. Carney, US Army relates that, "colored soldiers
were first recruited on Roanoke Island…after the passage by
Congress of the Bill permitting the enlistment in rebel States of
soldiers to be counted upon the quota of the loyal States
enlisting them, the City of New Bern was flooded with
recruiting agents and able- bodied Negroes were in
great demand.
But of the 250 who were enlisted from this District, and
who were said to have received heavy (enlistment) bounties,
few presented any appearance of having been thus furnished.
Their families are nearly as dependent on the government for
food as if no bounty had been offered or paid, suggesting
the suspicion that the money found its way into the
wrong pocket.
While some of the recruiting agents in North Carolina
were persons of integrity and honor…it is not too much to
say that others were scoundrels of the deepest dye, who
left the District enriched with ill-gotten gains."
Of those 186,000 black soldiers in the Northern army,
68,000 died. Of that number, only 2000 died in battle with
the remaining 66,000 died of sickness and disease.
After disappointing performances at the Crater in Petersburg,
Battery Wagner near Charleston, and Olustee in Florida, black
troops were relegated to support roles behind white units.
At the Forks Road battlefield near Wilmington in February 1865,
USCT were severely repulsed several times by General Robert
Hoke's veteran troops, with author Mark Moore (The
Wilmington Campaign, 1999) stating their "attack crested
within 150 yards" of Hoke's entrenchments.
The Legacy of the Black Soldier of the War Between the States:
In the May 1865 Grand Review of Northern forces in Washington, black soldiers who served in the United States Colored Troops
were intentionally excluded---unfortunately revealing how little appreciated their efforts were. The few blacks in the Review
marched as parts of pick-and-shovel brigades or were included
as comic relief. Two large black soldiers with Sherman's army
were displayed riding on very small mules, their feet nearly
touching the ground, and neither the black former slave nor
the free black soldier was to be the hero
of this national pageant.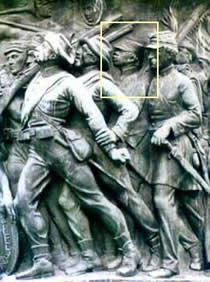 In contrast, Dr. Edward Smith tells us that the first military
monument that honors the black soldier is the Confederate
Monument at Arlington National Cemetery. It was designed
in 1914 by former-Confederate soldier Moses Ezekiel, a Southern
Jew, who wanted to accurately portray the make-up of Southern
forces. It shows a black soldier marching in step with white
soldiers, and a white soldier giving his child to a black
woman for protection."
Selected Sources:
Cotton & Capital, Richard H. Abott, UMass Press, 1991
Lincoln and the Radicals, T. Harry Williams, University of Wisconsin Press, 1965
Treason Must Be Made Odious, Peter Maslowski, KTO Press, 1978
Prince of Carpetbaggers, Jonathan Daniels, JB Lippincott, 1958
Strike the Blow For Freedom, James Paradis, White Mane Books, 1998
Glorious Contentment, The GAR, Stuart McConnell, UNC Press, 1992
Lincoln And The Negro, Benjamin Quarles, Da Capo Press, 1962/1990
The Real Lincoln, Charles L.C. Minor, Sprinkle Publications, 1992
The Diary of James T. Ayers, LSU Press, 1947/1999
The Wilmington Campaign, Mark A. Moore, Savas Publishing, 1999
After Slavery, The Negro In South Carolina, Joel Williamson, UNC Press, 1965
Black Civil War Soldiers of Illinois, The 29th USCT, Edward Miller, USC Press, 1998
Army of Amateurs, Army of the James, Edward G. Longacre, Stackpole Books, 1997
A Regiment of Slaves, The 4th USCT, Edward Longacre, Stackpole Books, 2003
The Louisiana Native Guards, James Hollandsworth, LSU Press, 1995
Black Southerners in Confederate Armies, Segars & Barrow, Southern Lion,, 2001
Amongst My Best Men, Afr-Americans in War of 1812, G. Altoff, Perry Group, 1996
The Last of American Freemen, Robert M. Weir, Mercer University Pres, 1986
©2006 Cape Fear Historical Institute