Colonel Thomas Jefferson Lipscomb
Second South Carolina Cavalry -- The Wilmington Campaign
Cape Fear Historical Institute Papers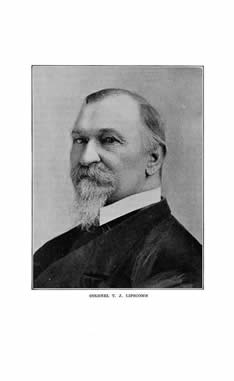 Colonel Thomas Jefferson Lipscomb commanded a detachment
of the Second South Carolina Cavalry assigned to the support of
Gen. Robert F. Hoke's division near Fort Fisher in late 1864.
With an enemy attack imminent on that fortress guarding the
Cape Fear River and Wilmington, Col. Lipscomb's troopers
provided cavalry scouting and skirmishing that harassed
enemy movements once they had landed.
Early Life
He was born in Abbeville District, SC on 27 March 1833.
He was educated at the University of Virginia, and was a graduate
of the South Carolina and Jefferson (Philadelphia) Medical
Colleges, the latter in 1854.
Lipscomb was involved in an 1857 masked ball incident at
the home of Arthur Simkins, editor of the Edgefield (South Carolina) Advertiser. During a quadrille Lipscomb claimed a vacant position
which was also claimed by Matthew Calbraith Butler; a bitter
argument ensued with a challenge to a duel made and accepted.
At a field of honor near Augusta, though at the last minute friends convinced both men to reconcile their differences and call off
the duel. They became fast friends and served together as colonels
of the Second South Carolina Cavalry during the War.
Medical Studies in France
After spending six months as a medical intern in New York and
eighteen months in Paris, France to complete his medical studies,
Thomas was called home due to his father's illness; he purchased
a plantation in Laurens which he farmed for three years, then sold
it and acquired another near Newberry where he remained
until the outbreak of war in 1861.
Wartime Service
After the Fort Sumter hostilities he was elected lieutenant of
Company B, Third South Carolina Infantry on April 14, and
marched with it to the battle of First Manassas in July 1861.
His uncle, Brigadier-General Milledge Luke Bonham (1813-1890)
then took Lipscomb on as his aide-de-camp where he served
until late 1862 when Bonham was elected governor
of South Carolina.
Lipscomb was transferred to the staff of General Joseph B.
Kershaw until early 1863; then raised a company of cavalry,
served as captain with rank as of 4 May 1862, and assigned to
Gen. Wade Hampton's Legion. With the reorganization of Lee's
Army of Northern Virginia in mid-1863, Hampton's cavalry and
the Fourth South Carolina Cavalry were consolidated and renamed
the Second South Carolina Cavalry, under the command of
Brigadier Matthew Calbraith Butler. At the battle of
Stevensburg, Lipscomb earned promotion to major on
22 August 1862; lieutenant-colonel on 10 June 1862;
colonel on 1 September 1863.
The battles fought by the Second South Carolina Cavalry in
the Army of Northern Virginia included Second Manassas,
Stone Mountain, Sharpsburg, Fredericksburg, Brandy Station,
Second Winchester, Upperville, Gettysburg, Bristoe, Mine Run,
Todd's Tavern, the Wilderness, Ground Squirrel Church, and
Brooks' Church. In May 1864 the infantry battalion of
Hampton's South Carolina Legion was mounted and united
with the Second Cavalry. It was then re-designated the
Hampton South Carolina Cavalry Legion.
After Cold Harbor, it participated in numerous conflicts near
the James River and the Appomattox campaign.
An online history of the Second South Carolina Cavalry
indicates Col. Lipscomb was detached to South Carolina
in 1864: a May 17, 1864 message from District of South Carolina commander Major-General Sam Jones in Charleston ordered
Lipscomb to "bring all his men" to Columbia without delay.
Another source, Seigler's "South Carolina's Military Organizations
During the War Between the States," volume II, notes on page 295
that the First and Second SC Cavalry were ordered to South
Carolina to "recruit and remount . . . The 2nd left its camp on
March 20 [1864] bound for Columbia, the men by rail and
the horses traveling overland. It arrived in Columbia about
April 2 and was sent to James Island via Charleston
in mid-April. The [Official Records] notes that the regiment
was ordered to Charleston on May 17. The regiment remained
on James Island only a day or two before it was ordered elsewhere.
Its companies were seperated and sent to various locations
along the coast. Company G went to Pawley's Island . . ."
It is speculated that the latter company could have been sent further
north to provide Gen. Robert F. Hoke with a small cavalry arm led
by Col. Lipscomb as the former arrived in Wilmington in late
December, 1864 with his 4600-man division from Virginia.
Intelligence reports indicated that Fort Fisher near Wilmington
was threatened with attack.
The Wilmington Campaign
Col. Lipscomb's Second SC Cavalry detachment was present
at Fort Fisher near Wilmington from January 1 thru January 5,
1865 and listed under Harrison's Brigade, McLaw's Division;
afterward the "Carolina Campaign" in February 1865 under
Gen. Thomas M. Logan's Brigade. Lipscomb is then designated
as at Bentonville March 19 and 20, 1865 and still under Logan.
With the imminent threat of enemy attack on Fort Fisher below
Wilmington, General Robert F. Hoke's division begins arriving
at Wilmington on 24 December 1864 to support the fort, and the
Second South Carolina cavalry appears in orders from
Col. Archer Anderson (Braxton Bragg's AAG) on 12 January
1865, to report "to Gen. Hoke at Sugarloaf except for one
company" to remain at Masonborough (Sound) as pickets
to monitor an enemy landing. The natural and large sand
dune called Sugarloaf is a little more than 4 miles
above Fort Fisher.
On January 17, two days after the fall of Fort Fisher,
Col. Lipscomb is at Gander Hall (today's Carolina Beach,
an east bank landing on the Cape Fear River north of the
State Park) and ordered to send an officer and 25 troopers
to Major Reid of the commissary in Wilmington.
At Masonboro Sound above Fort Fisher, Hoke is using
Lipscomb's cavalry with two pieces of artillery to thwart
enemy movements northward.
On February 18 two companies of Col. Lipscomb's cavalry
of 152 troopers were ferried to the west side of the Cape Fear
River (to Gen. Louis Hebert) to oppose the enemy advance
from Smithville toward Fort Anderson, which is opposite
Sugarloaf. Col. Lipscomb then has one of his squadrons in
Jacksonville and fifty with Major Reid, and his horses are
breaking down from overuse.
He requests for his horses ten pounds of corn for ten days.
As well-described in Brigadier-General Johnson Hagood's
"Memoir's of the War of Secession," Col. Lipscomb's main
body of cavalry (about 100 troopers) provided Hagood with
reports of enemy strength and movements. After the evacuation
of Fort Anderson on February 19, Col. Lipscomb's scouted
and harassed enemy movements, but his 100 men and a field
piece were no match for the 3,000-man enemy
force moving northward.
His cavalry then fell back to Hagood's new Town Creek line of
defense across the Cape Fear River from Hoke's new line at
Forks Road, several miles below Wilmington (the intersection
of today's 17th Street and Independence Boulevard).
With little time to establish his defensive position at Town Creek,
Hagood's position was crushed by an enemy assault of ten times
his strength – in the subsequent rout Lipscomb's cavalry covered
the retreat and guarded the pontoon bridge to Eagle Island (near
today's Leland) and the ferry to Wilmington.
After Hagood's troops had crossed the river to Wilmington before
dawn on February 21, "Colonel Lipscomb's cavalry torched the
Wilmington & Manchester Railroad trestle and dismantled
a pontoon bridge spanning the Brunswick River on the west
side of Eagles Island." This is an island west of the city with
the Brunswick River on its west side, and the Cape Fear River
between it and the city.
Lipscomb's cavalry rode through the city as government supplies
and cotton were set afire, and awaited Hoke's now-combined
force to pass ahead of the approaching enemy. Hoke's force
then marched northward along the Wilmington and Weldon tracks
to its destination at Rockfish Creek below the town of Duplin Roads.
Col. Lipscomb's cavalry was Hoke's rear guard and screened
the retreat with devastating hit and run attacks on pursuing
enemy skirmishers.
Of note, Gen. Hoke had wisely taken all railroad rolling stock in
the city with him so as to leave the enemy with tracks but no
equipment with which to pursue him.
As Hoke's force rested and re-quipped, Lipscomb's cavalry rode
scouting duty between enemy advanced units at Northeast Station
on the Cape Fear River (today's county line between New Hanover
and Pender counties at Highway 117). The enemy did not pursue
as it consolidated its investment of Wilmington.
Gen. Hoke's division rested and re-equipped on the north bank
of Rockfish Creek while administering a 10,000 man exchange
of prisoners to the enemy now occupying Wilmington, the cavalry
regularly patrolling the 30 miles between enemy lines above
Wilmington and Rockfish Creek.
To Kinston and Bentonville
Hoke departed Rockfish Creek on March 5th to confront an enemy
thrust at Kinston, with Hagood writing that Col. Lipscomb
"was left to watch the enemy at Northeast River (above
Wilmington), which they had shown no disposition
to cross . . ." After a short engagement at Kinston,Hoke fell
back toward Smithfield.
Col. Lipscomb no doubt led his command toward Kinston and Goldsborough from the Northeast River, and it is reported that the
enemy captured Goldsboro with stiff resistance from the Second
South Carolina Cavalry (Bentonville, Moore, pg. 69)
At this time Gen. Thomas Logan's cavalry, of which the Second
SC Cavalry was evidently now a part, was well west at Bentonville, securing Mills Creek Bridge; Gen. Joe Wheeler's cavalry was
with Gen. Lafayette McLaw's, and Col. Lipscomb was between
Hoke's rearguard after coming to Bentonville from Kinston.
After the Bentonville battle, Lipscomb – as part of Logan's
command – screened Gen. Joe Johnston's withdrawal toward
Raleigh and beyond.
As part of Johnston's Army of Tennessee, Col. Lipscomb's
command would have been included in the surrender of late April,
1865 as part of that army, and then returned to South Carolina.
The Postwar
Col. Lipscomb returned to work his Newberry plantation.
Two years afterward he accompanied James Chappell to the latter's nearby home which "was the target of arson or so rumored."
For the active part Col. Lipscomb took "in compelling the black
citizens to disperse and as a reward for his efforts, a few nights
later, his home was burned to the ground by colored citizens,
his wife and himself barely escaping with their lives."
(Laurensville Herald, 24 November 1871).
In 1870 he became a cotton broker in Newberry until 1878
and his election as Superintendent of the State Penitentiary –
remaining at that post until 1890. He afterward moved to
Columbia where his popularity brought him election as
mayor of Columbia in 1898.
Lipscomb married Harriet Victoria "Hattie" Harrington (1832-1925), daughter of William H. Harrington and granddaughter of
Chief Justice O'Neal. Six children were born of their union –
Moriat Harrington (1869-1869); Unnamed infant son (1872-1872); William Harrington (1874-1897); Sarah Bonham (1876-1882);
Thomas J. (1878-1916); and Hattie Harrington (1880-1881).
Colonel Lipscomb died at the age of 75 on November 4, 1908 in Columbia, South Carolina, and is buried in Rosemont Cemetery, Newberry, South Carolina.
Col. John L. Black of the First South Carolina Cavalry said
of Lipscomb that "he would never learn "red tape."
Sources:
War for Independence in South Carolina: www.researchonline.net/sccw/unit70.htm
Confederate Colonels, B. Allardice, U of Missouri Press, 2008
Memoirs -War of Secession, Johnson Hagood, State Company, 1910
SC Military Organizations/WBTS, R.S. Seigler, Arcadia, 2008
Kincaid/Anderson Family Papers, www.library.sc.edu/socar/uscs/1995/kincd95.html
www.genealogytrails.com/scar/newberry/observer/1878-1905Li.htm
The Wilmington Campaign, Chris Fonvielle, Savas, 1997,
©2006 Cape Fear Historical Institute