Colonel William Lord DeRosset

Colonel DeRosset in Late Life
Cape Fear Historical Institute Papers

William Lord DeRosset was born in Wilmington, North Carolina
October 27, 1832, the eldest son of Dr. Armand J. and Eliza Jane DeRosset, daughter of William C. Lord. After their marriage in 1829,
Eliza bore eleven children, seven sons and four daughters.

The DeRosset family is French in origin, the revocation of the
Edict of Nantes forced Lewis Henry DeRosset to flee that country
for England. Dr. DeRosset's grandfather, Dr. Moses John DeRosset,
was born in London, England in 1726 and emigrated to America
with brother Louis H. in 1760 to the Cape Fear area.
Dr. Moses J. DeRosset was mayor of Wilmington in 1765 and
helped lead the Stamp Act resistance in the Cape Fear.

William Lord DeRosset was prepared for college at
St. Timothy's Hall, Cantonsville, Maryland, and St. James College, Hagerstown, entered the University of North Carolina in June, 1849
and left in 1851. He was subsequently with his father in New York,
and entered as an apprentice at the Lawrence, Massachusetts
machine shops. Returning to Wilmington, he helped establish the
Clarendon Iron Works and in 1860 became a member of the
mercantile firm DeRosset & Brown, formed by his father and
John Potts Brown.

He married Carolina Horatia Nelson in December, 1854 who bore
him two children, Annie and William Lord, Jr.; and after her death
on 10 November 1860 he wed Elizabeth Simpson Nash on
10 June 1863. The latter marriage produced six children:
Armand John, Mary, Henry Nash, Kate, Frederick Nash, and Anita.

In 1854 was made a lieutenant of the Wilmington Light Infantry
(WLI); in 1856 was elected captain which rank he held until the
outbreak of war. Under orders from Governor John W. Ellis in
April, 1861, DeRosset's WLI occupied Fort Caswell with other companies from Wilmington. Two weeks later he was ordered to
Federal Point with his WLI to man a two-gun battery, erected by
Major Charles Pattison Bolles. This battery would form the nucleus
of the earthen Fort Fisher.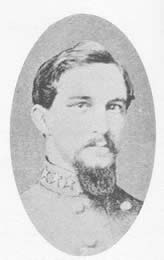 Colonel William Lord DeRosset

After several months duty at Battery Bolles, the WLI was
organized into the Third North Carolina Regiment of which
Wilmingtonians Gaston Meares (DeRosset's brother in law) was
colonel, and Robert H. Cowan was lieutenant colonel. DeRosset
was promoted to the rank of major on 6 May 1861. At the unit reorganization in May, 1862 and Cowan being made colonel of the Eighteenth North Carolina Regiment, DeRosset was promoted
to the rank lieutenant-colonel.

In this rank he served in General Roswell S. Ripley's Brigade of
Georgians and North Carolinians in the campaign before Richmond, participating with credit in the battles of Mechanicsville, Gaines' Mill,
and Malvern Hill. Colonel Meares was killed by a shell fragment during the latter engagement and DeRosset assumed command
of the regiment, soon afterward being promoted to full colonel.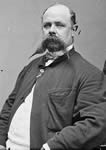 General
Roswell S. Ripley

He led the Third North Carolina in the Maryland campaign, and commanded General Ripley's Brigade during the battle of
South Mountain, though the regiment was not actively engaged.
He led the Third North Carolina Regiment at the battle of Sharpsburg, which lost in the carnage of that day 330 killed and wounded out
of 520 taken into the fight, including 23 out of 27 officers, seven of
whom were killed or mortally wounded. Colonel DeRosset was
among the wounded officers, a minie ball passing through his lower
body, nearly causing his death and disabling him for the war.

General Daniel H. Hill, in recounting the severe losses of his
division, reported: "Colonel DeRosset, Third North Carolina,
received a severe wound which I fear will forever deprive the
South of his valuable service."

DeRosset returned to Wilmington in the summer of 1862 for recruiting
duty but returned to Virginia for the Fall, 1862 campaign.

After many months of suffering he gave up hope of resuming his
command, and resigned his commission as colonel in July of 1863.
He joined his father's commission merchant business in Wilmington,
and in late 1864 brother Louis H. DeRosset moved to Hamilton,
Bermuda to handle supplies sent to through the blockade to his
father's firm. In January, 1865, William accepted the appointment
of colonel in the Invalid Corps from President Jefferson Davis, and
was surrendered with the army of General Joseph E. Johnston
at Greensboro.

The family of Colonel DeRosset served the American Confederacy
as a unit, his father was a member of Wilmington's Committee of Safety; his mother was president of the Soldiers' Aid Society of Wilmington throughout the war. Under her direction, and that of
Mrs. Alfred Martin, the ladies of Wilmington would daily
gather at City Hall to seek relief funds and donations.
When wounded, sick and footsore veterans came through
Wilmington, the women provided them with food, hospitality, medicine and a change of bandages.

Four other sons of Dr. Armand & Eliza DeRosset, the brothers of
Colonel DeRosset, were in the Confederate service. Dr. M. John DeRosset, who left a position as surgeon at New York's Bellevue
Hospital and offers of position with a New York regiment, returned
South to serve with General Stonewall Jackson in the Shenandoah
Valley in 1862, thence was one of the surgeons in charge of the
Baptist College Hospital, Richmond; Captain Armand L. DeRosset
served in Eighteenth and Third North Carolina, was present when
Fort Caswell was evacuated in January 1865, severely wounded
and left for dead on the field at Averasboro in March, but recovered;
Louis H. DeRosset served in Nassau with the Confederate Ordnance
and Quartermaster's Department; and Thomas C. DeRosset,
who left school to join the Junior Reserves and served at the
Fayetteville Arsenal. He died of sunstroke in 1878 while in
command of the Whiting Rifles attending memorial ceremonies
at Wilmington's Oakdale Cemetery.

At the close of the war Colonel DeRosset resumed business with
his father and brother under the firm name DeRosset & Company.
In 1877 he connected himself with the Navassa Guano Company
as superintendent of agencies. He became both secretary and treasurer
of the venture and held these posts until failing health forced his
resignation. Not preferring politics, he served only one term as a
Wilmington c ity alderman.

Colonel DeRosset assisted in forming an association of the
Third North Carolina Regiment in 1865, which was practically the
first association of Confederate veterans, and of this association
he was made president for life.

He wrote Confederate Veteran magazine
in September, 1893:
[The] Cape Fear Camp now numbers over 100 members,
with the prospect of largely increased numbers this coming fall.
We have here, I believe, the oldest organization of veterans on either
side in the country. In February, 1866, the officers of the
Third North Carolina Infantry, living here [Wilmington],
organized an association which has been kept alive ever since,
having their regular reunions on May 16th, the date of the
organization of their regiment. The command was enlisted
"for the war," and all officers were appointed by the Governor
of the State. We also have an organization of the
"Veterans and Reserves" of the Wilmington Light Infantry,
an old ante-bellum organization, which was sent into service
under my command. I preside over each of these organizations,
an honor of which I am justly proud."

He was commander of the Cape Fear Camp, United Confederate Veterans from 1894 to 1896, and was elected Major-General of
the North Carolina Division of Confederate Veterans, and served
on many important committees. Major-General DeRosset issued
his first general order from Wilmington, August 5, 1895, by which
he appointed Junius Davis Adjutant and Chief of Staff. Davis was
the son of Confederate Attorney General George Davis, and had
served in the 1st Regiment, North Carolina Artillery during the war.

The civic involvement of Colonel DeRosset included the presidency
of the Cape Fear Agricultural Association in 1870, the Chamber
of Commerce in 1872, and Master of the Orient Lodge of Masons
in 1886, and by integrity of character achieved a high place in the estimation of all those who knew him. He also served as a vestryman
and senior warden of St. James Episcopal Church , was a member
of the standing committee of the Diocese of North Carolina and
East Carolina, and treasurer of the Diocese of East Carolina.

Colonel DeRosset died at his home in Wilmington on
August 14, 1910, after an extended illness of several months.
He was buried in Oakdale Cemetery with military honors.
Sources:
Confederate Military History, C. Evans, ed., Broadfoot Publishing, 1987)
Cyclopedia of Eminent Men, Vol. II, Brant & Fuller, 1892
Dictionary of NC Biography, W. Powell, ed., UNC Press, 1986
Confederate Veteran Magazine, October, 1910
Confederate Veteran Magazine, September, 1893
©2006 Cape Fear Historical Institute