Captain David Reid Murchison
Wilmington Merchant and Civic Leader
Papers of the Cape Fear Historical Institute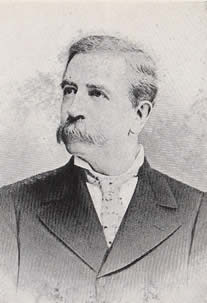 David Reid Murchison was born at the Murchison
family ancestral home, Holly Hill, Cumberland County,
North Carolina on 5 December 1837, the son of Duncan
(1801-1870) and Fannie Reid (1806-1839) Murchison.

The Murchison patriarch was Kenneth McKenzie
Murchison (David Reid's grandfather) who came to the
valley of the Cape Fear from Scotland in 1773.
Though most of his neighbors were newly-arrived
Scots loyal to the British king, Kenneth became
a Whig (patriot) and soldier in the Cumberland militia.

Murchison prospered after the war in a cotton mill
operation named "Manchester" after the famous mill
center in England, a name which lives on today in
Cumberland County. He died in 1836 at age 88, with a
eulogy that spoke of "Another Revolutionary patriot
gone to sleep with his compeers beneath the silent
clods of the valley."

David Reid Murchison spent his boyhood days at
Holly Hill, received his early education in
Cumberland County, and later attended the
University of Virginia. He left the latter institution
in 1856 to become a bookkeeper in the New York
City firm of Bauman & Murchison. In 1858 he came
to Wilmington to be a partnerin the firm
of Eli Murray & Company.

The outbreak of war in early 1861 he was a private
in the Wilmington Light Infantry and participated in
the seizure of Fort Caswell at the mouth of the
Cape Fear. Within a few months, he raised a
company of 108 Wilmington volunteers
with R.B. McRae and T.H. McKoy, of which
Murchison served as lieutenant.
The company was assigned as Company C of the
Seventh North Carolina Regiment, North Carolina State
Troops, and saw action during the Seven Days battle
around Richmond, Fredericksburg, Sharpsburg, and
Second Manassas. In April, 1863 he was transferred
to the 54th North Carolina Regiment and promoted
to Captain as assistant quartermaster, though
poor health in 1864 kept him from active service,
and was subsequently appointed by President
Jefferson Davis to be inspector-general of the
Commissary Department of North Carolina.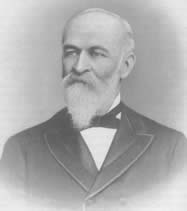 Brother-in-law Charles Manly Stedman described
Captain Murchison as
"a singularly brave man, devoid
of fear. Cool and self-reliant under all circumstances,
he gave confidence and strength to the weak and timid.
He was generous, full of sympathy and of kindness
to the poor and needy, to whom he gave with an
open and liberal hand. He was a sincere man,
abhorring deception and hypocrisy and looking with
scorn upon all that was base and mean."

Captain Murchison's oldest brother Colonel John R.,
was mortally wounded while leading his Eighth North
Carolina Regiment at Cold Harbor on 1 June 1864.
Older brother Colonel Kenneth Murchison was
captured with 1500 men of his Fifty-fourth
North Carolina Regiment at Rappahannock
Station in early November, 1864 – and spent
the following 20 months as a
prisoner at Johnson's Island.

After the war he returned to Wilmington and resumed
his partnership with Eli Murray, as the firm Murray
and Murchison. In July 1866 he joined his brother
Kenneth M., John D. Williams, and brother-in-law
George Williams and established the firms of
Williams & Murchison in Wilmington, J.D. Williams
& Company in Fayetteville, and
Murchison & Company in New York.

David Reid Murchison was also a member of the
first Board of Directors of the Bank of New Hanover
in 1872; first president of the Produce Exchange;
president of the Wilmington Compress and Warehouse
Company; and president of the Express Steamboat
Company providing service between Wilmington
and Fayetteville.

He was among the early members and incorporator
of the prestigious Cape Fear Club, and served as
President in 1868. He was the uncle of architect
Kenneth M. Murchison, Jr., designer of the
Murchison National Bank building on the
northwest corner of Front and Chestnut Streets,
and earlier site of the Cape Fear Club.

Murchison married Lucy Wooster Wright (1850-1913),
daughter of Joshua Grainger and Mary Ann (Walker)
Wright, on 11 January 1872. Their one child was
daughter Lucile Wright Murchison, who later gave the
old Murchison home on South Third Street to the
Episcopal Diocese of East Carolina, now the
diocesan headquarters. The Murchison's were
members of St. James Episcopal Church.

He and Charles Stedman jointly purchased Orton
Plantation in the late 1870s. They sold the property
in 1884 to David's older brother, Col. Kenneth M.
Murchison who lived there until his death in 1904.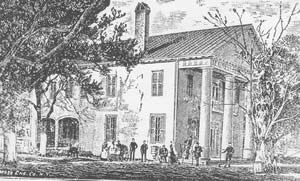 Stedman continues:
[Captain Murchison] was a man of extraordinary business
sagacity, which was made manifest about the year 1880,
when, after being appointed receiver of the Carolina
Central Railway, he startled the community by buying
out the whole [rail]road, and he conducted it
successfully until his health began to fail,
when he sold it out at a profit."

Captain Murchison died on 22 February 1882 while
seeking medical treatment in New York, and was buried
in Wilmington's Oakdale Cemetery. At the time of his
death, the Wilmington Chamber of Commerce and the
Produce Exchange both suspended business and in
a body attended the funeral.
Stedman said of him after his death:
"He was in the full meridian of his intellectual powers
and his nobility of mind and heart was never more
clearly manifested than in his last days. He went
to his rest, his fortitude unshaken by long-continued
and severe suffering, his chief desire to give the
least possible pain and trouble to others, solicitous
not for himself, but for the happiness
of those he loved.

His gentleness and self-abnegation were as beautiful
as his iron nerve was firm and unyielding.
North Carolina has furnished to the world a race
of men who by their great qualities have shed luster
upon the State which gave them birth. In the elements
of character which constitutes true greatness –
courage, honor, truth, fidelity, unselfish love of
country and humanity – Capt. David Reid Murchison
will rank with the best and noblest of her citizens."
Sources:
The Story of Fayetteville and the Upper Cape Fear, John A. Oates
The Cape Fear Club, 1967-1983, Cape Fear Club
Chronicles of the Cape Fear, James Sprunt, Edwards & Broughton
Dictionary of North Carolina Biography, W. S. Powell, UNC Press

©2006 Cape Fear Historical Institute