Major-General Benjamin Smith
Patriot, Legislator and Governor
Cape Fear Historical Institute Papers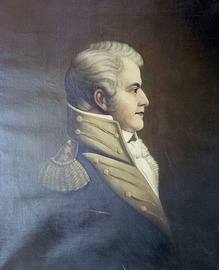 Major-General Benjamin Smith
Benjamin Smith was born in the South Carolina province
of Charlestown on January 10, 1756, to Thomas and
Sarah Moore Smith. His father was the son of wealthy
planter and merchant Thomas Landgrave Smith; mother
Sarah was the daughter of colonial leader "King Roger"
Moore of Orton Plantation on the Cape Fear River
in Brunswick County, North Carolina.
Prior to North Carolina becoming a State, Thomas Smith
was one of the last of the landgraves, a title of nobility bestowed upon a few of the wealthiest colonists by the
Lords Proprietors.
Beginning his education at Charlestown, Benjamin was
sent to study under Reverend Jacob Duche at Philadelphia
for three years as a young teen. In mid-May, 1774, he was admitted to the exclusive Middle Temple of London's Inns
of Court for barristers with origins in the 12th Century
and Enlgish law taught by clergy. With worsening relations between England and the American colonies, he soon
returned to Charlestown to study under attorney
Edward Rutledge, until the Revolution
interrupted his studies.
In late August 1776 Benjamin became aide-de-camp
to General George Washington, a position he held during
the retreat of Washington's army from Long Island
and through the campaigns of 1777.
In early February 1779 Smith served on Gen. William Moultrie's staff in South Carolina. He was present
during the defeat of British troops at Port Royal Island,
now Beaufort, which delayed the invasion of South
Carolina several months. Moultrie's force then moved
on to strengthen Charleston's defenses against an
expected attack in mid-May. Smith would eventually
rise to the rank of colonel in the Continental Army.
While with Washington's army, Smith married Sarah
Rhett Dry at St. Philips Church in Charleston in
November 1777, she the daughter of Col. William Dry, Customs Collector for the port of Brunswick,
and wife Mary Jane (Rhett) Dry.
Returning postwar to North Carolina, Smith was elected
in 1784 to represent North Carolina in the Continental Congress, and active in North Carolina's Constitutional Conventions in 1788 and 1789. Additionally, he served
a number of terms in the General Assembly between
1783 and 1810, and from 1795 to 1799 Smith was
Speaker of the North Carolina Senate.
In 1794, Smith was appointed brigadier-general of
North Carolina Militia, and was well-known politically
in the State. Elected Governor of North Carolina in
1810, he served a one-year term, was not reelected,
and returned to the North Carolina Senate in 1816.
Smith also sat on the University of North Carolina's
Board of Trustees 1789-1824, chaired the Board
during his term as Governor and donated 20,000
acres of Tennessee land for the school's endowment.
The land was a reward for his military service
during the Revolution.
The town of Smithville at the mouth of the Cape Fear
River is named in his honor, as he donated his land
adjacent to Fort Johnston to establish the
community in 1792.
Though a well-educated man, he had an irascible disposition which caused him to settle disagreement by duel with blood kin or political antagonists, being twice-wounded in the contests. One wound left him with a bullet in the leg
which he carried the rest of his life; another time he
received a wound in his side defending his honor
against Captain Maurice Moore.
Governor Smith was also a Grand Master of Masons,
serving from 1808-1810. In 1807, he was appointed
Adjutant-General of North Carolina in 1807 with the
rank of major-general, commanding the State's militia.
After his term as governor, General Smith returned to
the Cape Fear and his wife's plantation "Belvedere,"
left to her by father Col. William Dry. This was directly
across the Cape Fear River from Wilmington and where President Washington was entertained after departing Wilmington on his Southern Tour in 1791.
Smith was an early owner of nearby Orton Plantation, inherited from his grandfather, and spent much time at his residence on Dock Street near the northwest corner of
Second Street – later the residence of Dr. John D. Bellamy.
Sadly, Governor Smith's enormous wealth but extravagant living led to financial misfortune and increasing debt obligations. After wife Caroline passed away in 1821,
he continued to live in his dilapidated Smithville house
where he died a virtual pauper five years later.
Having no will, his creditors clamored for his few
remaining possessions, which were auctioned at a
sheriff's sale in 1826.
Caroline was buried at St. Philip's at Brunswick, but
he was buried at the Old Smithville burial ground for expediency as body decomposition had advanced. His
remains were later removed to the cemetery at
St. Philips Church.
Author Lewis Philip Hall writes that after the fall
of Fort Anderson in February 1865, Northern troops
"dug up the remains of the coffins, broke open the
tombs and scattered bones, looking for jewelry and
silver coffin plates, and many gravestones were
destroyed."
At the urging of postwar Northern speculators who
proposed building a railroad to the town and establishing
it as a grand city of business and industry, Smithville
was renamed "Southport" in 1887.
The speculators intent was never realized.
Sources:
History of New Hanover County, Alfred Moore Waddell,
Vol. I, 1909
Biography of Benjamin Smith, Alan D. Watson,
McFarland, 2014
Land of the Golden River, Lewis Philip Hall, Wilmington Printing Co., 1980
©2006 Cape Fear Historical Institute