Major-General Joseph A. McNeil
Wilmington Native and Air Force Navigator
Cape Fear Historical Institute Papers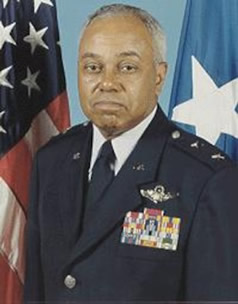 Major-General Joseph A. McNeil
While a Reserve officer in the United States Air Force,
Joseph A. McNeil's business, then Federal Aviation Administration career was paralled with training
as a flight navigator, and rising in Air Force rank to
major-general. His posts included several
administrative, advisory and command positions.
1959 graduate of Wilmington's Williston High School,
McNeil attended North Carolina Agricultural & Technical College on an alumni scholarship, graduating in 1963
with a degree in engineering.
Founded in March 1891 as the Mechanical and
Technical College for the Colored Race, the school
at Greensboro, North Carolina was the first
historically-black college in the State.
While a student McNeil enrolled in
the Reserve Officer Training College
(ROTC) program.
Upon graduation in mid-1963 he was commissioned
second-lieutenant and began initial navigation
training at Connally Air Force Base (AFB) in Texas.
In pre-computer navigation days both
celestial and radar methods were utilized to
direct tanker aircraft to rendezvous with those
requiring in-flight refueling, as well as avoiding
threatening weather.
From 1964 to 1969 Lt. McNeil pursued a
civilian career in computer sales, commerical banking
stocks, as well as developing business diversity and
affirmative action programs, with part-time Reservist
status, while assigned to Ellsworth AFB, South Dakota.
At the latter he was a Reservist assigned as a KC-135
airborne refueling tanker navigator.
In 1968 Lt. McNeil was deployed for several months to
Anderson AFB on Guam as the bombing of North
Vietnam intensified. B-52's returning from
high-altitude bombing missons and low on fuel.
They met tanker aircraft like Lt. McNeil's over the
South China Sea for fuel to reach their base at Guam.
During this time he was elevated to
the ranks of first lieutenant, then captain.
Following this duty though remaining a Reservist,
McNeil re-entered federal service for a long career with
the Federal Aviation Administration's Flight Standards
office while living in New York.
As a Reserve officer, Captain McNeil
becaame assistant to commanders at McGuire
AFB in New Jersey while rising to the rank of major,
and colonel. From 1992 to 1995 he served in
vice-command and command positions at
Dobbins Air Force Reserve Base, as well as
Robins Air Force Base in Georgia.
In 1994, McNeil was promoted to brigadier-general;
major-general in 1996, a rank he held when retiring
in 2000 after a career of thirty-seven years in the
Air Force Reserve. As navigator and crewmember
aboard KC-135's, General McNeil is credited
with 6600 flight hours, and is the recipient of
the Air Force Distinguished Service Medal.
General McNeil's additional honors include the
Legion of Merit, Meritorious Service Medal, National
Defense Service Medal, Humanitarian Service Medal,
Air Medal with Oak Leaf Clusters, Air Force
Achievement Medal, Air Force Commendation
Medal, Combat Readiness Medal, Armed Forces Expeditionary Medal, Vietnam Service Medal
with Silver Star, Southwest Asia Service Medal
with Bronze Star, Air Force Longevity Service
Award with four Oak Leaf Clusters, Armed Forces
Reserve Medal, Republic of Vietnam Gallantry
Cross with Palm, and Republic of Vietnam
Campaign Medal.
Personal Life
General Joseph Alfred McNeil was born in Wilmington,
North Carolina on March 25, 1942, and is a 1959
graduate of the all-black Williston High School.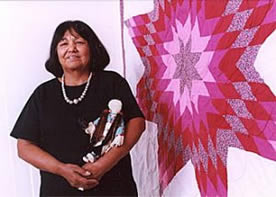 He married Lakota Sioux Ina (Brown) McNeil of
Standing Rock Sioux Reservation in 1967 while
stationed at Ellsworth AFB, she the great-great-
granddaughter of Sitting Bull and accomplished
quilt artist. They have five children.
Notes and References:
WIKI online, accessed Sept. 4-5, 2021
©2006 Cape Fear Historical Institute