William Rufus King of Sampson County
Vice President of the United States
Cape Fear Historical Institute Papers
This Page Under Construction!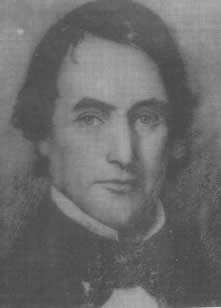 William R. King As A Young Man
William Rufus King, Statesman, Diplomat, and Vice President:
Though Vice President King died on April 18, 1853, his memorial observance was held in Washington on the 8th and 9th of December, 1853. Elected Vice President in 1853 with President Franklin Pierce,
he would serve less than a month in that office after being sworn in
at Havana, Cuba by a special act of Congress.
.
Born in Sampson County, North Carolina in 1786 and descended
from Irish settlers and a father who served in the legislature, King would
be elected to State office in 1808, and eventually to Congress where he served from 1811 to 1816. He resigned from Congress to become
William Pinckney's Secretary of the Legation to Russia and Naples, appointed by President Madison. Returning to North Carolina in 1818, King emigrated to Alabama where he was elected as one of that
State's first senators.
A remarkable statesman for today's legislators to emulate, Stephen A. Douglas of Illinois said of King:
"For 45 years he devoted his energies and talents to the
performance of arduous public duties---always performing his
trust with fidelity and ability, and never failing tocommand the confidence, admiration and gratitude of an enlightened constituency."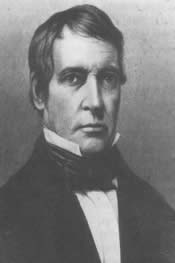 Congressman William King
William King was said by his contemporaries to be "a noble specimen
of an American statesman and gentlemen." He was an intimate friend
of John C. Calhoun and the companion of Webster, Cass, Clay, and Benton in the Senate of the United States; King "never yielded to the impulse of the moment, but made his tongue wait upon his judgment."
As a statesman who clearly understood the nature of American
government and the Constitution, he was from principle a States'
Rights man but did not love the Union less because he loved Alabama more. While he was serving his own State with fidelity and honor, he
was not remiss in his duties to the whole American Confederacy.
Like his illustrious prototype, John C. Calhoun, he battled for the rights
of his State, in order to secure that harmony between Federal and
State power, which is the essence of the union, and without which it
is impossible to preserve our system of self-government.
Senator Cass of Michigan added:
"But better than all this, and above all this, he was a sincere Christian; adding another to the long list of eminent men who
have searched the gospel of Jesus and have found it the will and
word of God. In his last illness, when the world and the things of
the world were fast fading before him, he found hope and
consolation in the promises of the Saviour; and calmly surveying
the approach of death, he looked beyond its power to the
glorious immortality promised to the believer."
Mr. Phillips of Alabama said of William King:
"I may now safely say of him dead, what, with equal confidence,
I may have said were he now living, that the Republic never
produced a man of more exalted integrity, or of higher chivalry
of character. A great man has fallen, and it is fit we mourn him! Dying, as he lived, with a full knowledge of the past, and a just appreciation of the future, may I not indulge in the hope, that the
light of his example may long continue to illuminate the path of
future Representatives of the State which holds his remains
and cherishes his memory!"
William R. King, Elder Statesman
(Obituary Addresses of the Occasion of the Death of the Hon. William R. King of Alabama, Robert Armstrong Printer, 1854, excerpts)
This page is under construction!
©2006 Cape Fear Historical Institute